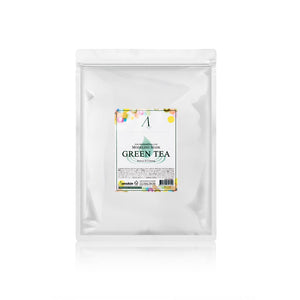 Description
How to Apply
Ingredients
More
Description
Skin calming and balancing therapy for combination, oily and acne-prone skin types.  The modelling mask penetrates skin texture more deeply than a sheet mask to deliver high-potency active ingredients for a healthy, dewy-looking complexion. Diatomaceous earth is used to firm the skin. It helps boost collagen to prevent wrinkles, promoting healthy skin. Silica, found in diatomaceous earth, helps to strengthen the body's veins and arteries through the formation of elastin and collagen. This modelling mask also contains Green Tea Powder and Green Tea Extract. The high concentration of antioxidants and anti-inflammatory polyphenols in green tea helps to minimize oily skin, fight acne-causing bacteria, protect skin from UV damage, boost blood flow and produce a glowing complexion. Licorice Root Extract soothes, softens skin, and brightens hyperpigmentation. Allantoin and Sodium Hyaluronate strengthen the barrier of the skin and boost skin vitality and vibrancy. 
Paraben-Free
Sulfate-Free
Alcohol-Free
Silicone-Free
How to Apply
Cleanse and tone your skin.
Apply a suitable

 treatment product

, it will help the active components of the product penetrate into the deeper layers, which means they will work better.
Prepare the mixture: in a special container, dilute the powder with water (1: 1) or activator (1: 3), mix thoroughly and apply to dry skin with a thick layer.
Take a comfortable position and wait for the mass to harden.
After 20-25 minutes, remove the mask (if the mixture is prepared and applied correctly, it will be removed in one layer).
Continue with the rest of your skincare routine.
Ingredients
Diatomaceous Earth, Algin, Glucose, Calcium Sulfate, Tetrasodium Pyrophosphate, Magnesium Oxide, Camellia Sinensis Leaf Powder (1%), Camellia Sinensis Leaf Extract (0.5%) , Glycyrrhiza Glabra (Licorice) Root Extract, Allantoin, Sodium Hyaluronate, CI 77288, Fragrance.
More
We usually receive the most current product versions directly from Korea. While we make every effort to update images and provide accurate and up-to-date information, please be aware that manufacturers may occasionally change ingredients without prior notice. If you are seeking a specific product version, we kindly request that you reach out to us for confirmation. Please note that we are not responsible if ingredients on the box differ from the description in the ingredients section.