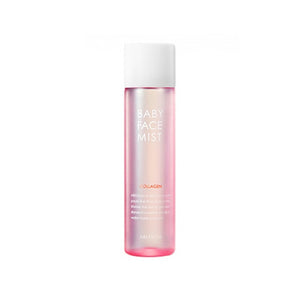 Description
About This Product:
Collagen - rich collagen and elastin amino acids. Deeply moisturizes the skin to prevent dryness to maintain the skin's water-holding power. Keeps skin moist for a long time
Features and Benefits:
Collagen - Firming mist containing 10 times more collagen than the previous version and the babyface essential TM ingredient.

How to Apply:
Spray in a circle at a 20cm distance from your face, and let it dry or tap lightly to absorb. Use whenever the skin feels dry.

Ingredients: Glycerin, Hydrogen, Hydrolyzed Collagen, 1,2-Hexanediol, Butylene Glycol, Peg-60 Hydrogenated Castor Oil, Glyceryl PABA, Phenoxyethanol,Ethylhexylglycerin, Adenosine, Frangrance, Natto Gum, Lactic Acid, PCA, Glucose, Glycine, Urea, Sodium Glycerophosphate, Serine, Glutamic Acid, Agaricus Bisporus Cap Extract, Acrylates/Stearyl Methacrylate Copolymer, Hyaluronic Acid, Potassium Magnesium Aspartate, Zinc Aspartate, Aspartic Acid, Leucine, Sodium Chloride, Guanine, Lysine, Arginine, Magnesium Gluconate, Calcium Gluconate, Tyrosine, Phenylalanine, Threonine, Proline, Valine, Isoleucine, Citric Acid, Xanthan Gum, Histidine, Creatine, Acetyl Glucosamine, Uric Acid, Cysteine, Methionine, Ceramide3.
More
We usually receive the most current product versions directly from Korea. While we make every effort to update images and provide accurate and up-to-date information, please be aware that manufacturers may occasionally change ingredients without prior notice. If you are seeking a specific product version, we kindly request that you reach out to us for confirmation. Please note that we are not responsible if ingredients on the box differ from the description in the ingredients section.
Recommend!
Really enjoyed using the Collagen mist! My face feels hydrated and plump throughout the day. I like to apply it also before applying makeup. It helps the application of the makeup and also gives me a softer overall look. Definitely, recommend.