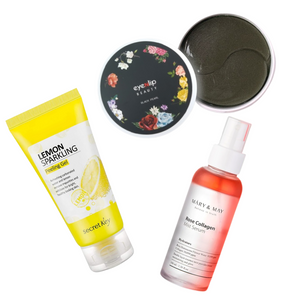 Description
How to Apply
More
Description
How to Apply
 After washing your face, squeeze a proper amount of SECRET KEY Lemon Sparkling Peeling Gel onto your hands and gently massage the gel all over your dry face. The product rolls into small balls, removing dead skin cells. Continue for 2-3 minutes, then rinse off with lukewarm water. Continue with the rest of your skincare routine. Recommended to be used 2-3 times a week.

Clean and tone your skin. Remove an EYENLIP Black Pearl Hydrogel Eye Patch from the jar with a spatula and attach it to the desired spot. Leave for half an hour, then remove, and rub the remnants of the healing essence into the skin. Use it at least once a week.

Shake MARY & MAY Rose Collagen Mist Serum well before use. Spritz onto the face and gently pat to absorb. This mist can also be used throughout the day to refresh and hydrate skin.
More
We usually receive the most current product versions directly from Korea. While we make every effort to update images and provide accurate and up-to-date information, please be aware that manufacturers may occasionally change ingredients without prior notice. If you are seeking a specific product version, we kindly request that you reach out to us for confirmation. Please note that we are not responsible if ingredients on the box differ from the description in the ingredients section.